Customized Vinyl Wallpapers to Make Your Walls Talk
Ditch Plain & Boring Walls – Bring Them Alive With Your Story
Let your walls showcase highy personalised designs
Move beyond the stock options available at standard interior shops
Brands like 3M wall vinyl available
Perfect for office branding
Looks impressive and professional
Stick directly on to the walls.
No special pre-treatment required.
We ship large-sized, full wall stickers across India
On-site installation services available in Pune
Stunning custom wallpaper prints starting from ₹70 per sq. ft.
Custom Printed Wall Vinyls – Detailed Description
Empty walls are boring to look at.
Walk into any commercial office space, and you will see its walls adorned with posters, murals, or a picture frame at the very least. This is because people realise that an exciting work environment increases employee productivity.
HR people have long known that working in a 'fun' place leads to a decrease in stress and directly impacts the staff's morale.
Now, one of the most visible spaces in any office would be its bare walls. And architects look at these walls as a resource for corporate branding and personalised interior decor.
Your walls can be made to tell the world your story.
And you can do this using our custom printed wallpapers.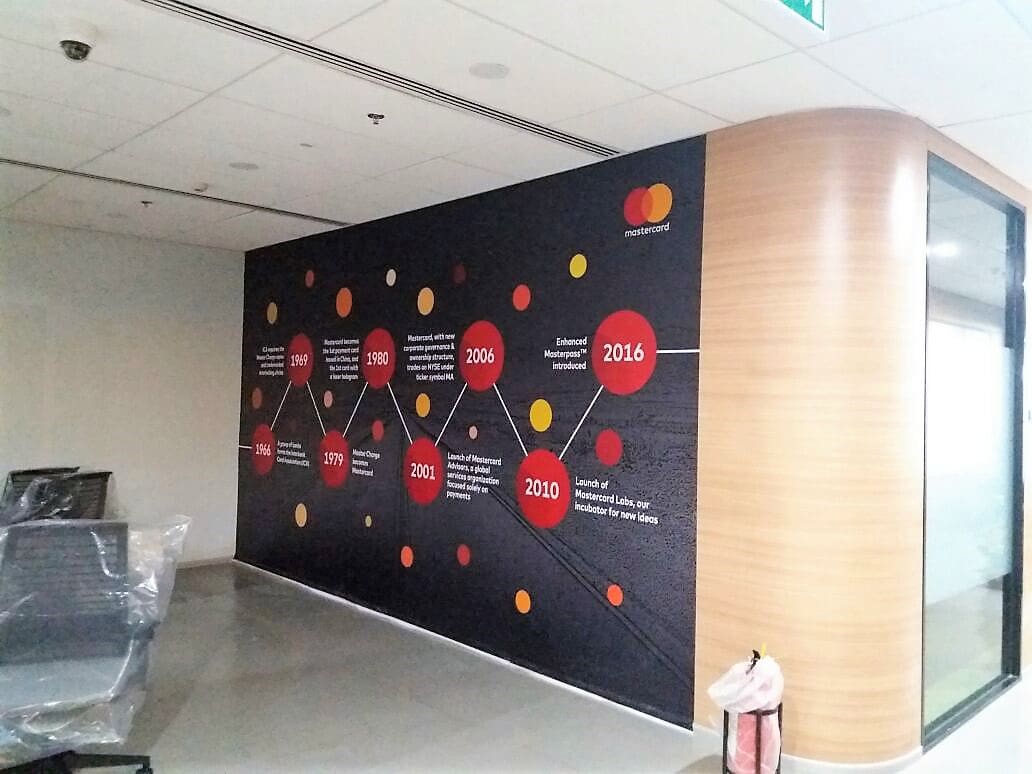 Where Can You Use These Full Wall Stickers?
Our custom printed vinyl wallpapers are an incredibly unique and personalised product. And you can use this product to brand your walls with the following ideas:
Showcase your company's mission statement and philosophy
Display flattering product imagery or personalised messages on the office walls
Flaunt corporate achievements and targets
Depict historical timelines and landmarks (if the organisation is an old one) on the walls of the conference room
Show larger than life images of your team in action
Display motivational quotes, etc.
And, of course, display your corporate logo.
As you go through the list above, you will realise that each of the ideas for branding your office walls is intensely personalised. And custom wallpapers printed on vinyl are the only way to make the project happen.
What are Custom Wallpaper Prints?
Visiting an interior design shop does not help when you want a custom design or your specific communication to be displayed on your walls.
This is because traditional wallpaper shops can only offer you a choice from a standard album of designs. This album will have scenes from nature, generic models and stock photography.
But it's definitely not going to contain your company's logo, your product images or philosophy.
To overcome this limitation, we digitally print your designs on specialised wall decals. This print is then directly pasted onto your walls. Bring in any artwork, be it of your product images, your company logo, or a collage of your team, and we will convert the same into a larger than life wall sticker for you.
7 Reasons Why You Should Choose Printed Wallpapers
1. You get the freedom to decide what your walls will look like
As explained in the section above, you can commission just about any design you like and get it converted into a large, full-wall sized wallpaper print for your office. You are no longer bound by the stock and generic imagery offered by interior decor shops.
2. High-resolution full wall sticker prints that will impress everyone
Using our high-end, wide-format printers, we can generate customised wallpapers with resolutions going all the way up to 1200 DPI.
At these resolutions, our print will capture the finest details of your design. For example, if you are a shampoo selling company, the machine will reproduce each hair on your model's head with exceptional clarity.
The final output, therefore, is impressive and pretty awesome to look at.
3. No bar on the size of the wall vinyl
We can generate wall stickers for your bedroom, kitchen, living room or office.
And we can make these prints in any size you want. Large-sized walls are not a limiting factor, and the size of your office does not matter. In fact, the larger the wall, the more awe-inspiring the final project.
We use a technique called tiling to create larger than life prints and cover mammoth-sized spaces. The images above show projects where we have branded walls as long as 50 – 80 feet.
4. Textured vinyl wallpapers are real
The standard printed wallpaper we provide has a smooth matt finish on top. But Orchid Digitals also offers a choice of textured media to get your job done.
A canvas textured wallpaper print is going to look very rich. You can choose the same for premium jobs where you need to make an impression. For example, textured wallpaper prints would be ideal for studio portraits of the company's founder or its board members.
Textures add a rich look and feel to wall stickers. So drop-in at our office to look at a variety of textured wall vinyls to give a more premium look to your job.
We also stock rolls of printable wall papers having a shiny glitter and even metallic finish!
5. Our custom printed wall stickers are very easy to install
Our vinyl wallpapers are pre-gummed. They have an adhesive back-surface very much like regular sticker sheets. The difference is that this glue is adapted for use with wall surfaces. This makes installation very easy.
The pasting team first cleans the wall with a mildly soapy solution. And since the print needs no further processing they just peel the same to fix it in place.
6. PVC wall stickers are easy to maintain
At Orchid Digitals, we always laminate our wall decals.
A top coat of lamination film protects the print from dust, scratches, scuffing and everyday wear and tear. This increases the life of the wall vinyl significantly. While cleaning the walls, just spray water on the printed surface. Wipe off the same with a cloth and your print will continue to look great.
7. Quick delivery and speedy installation
This is as much a virtue of the product as it is of Orchid Digitals. Once the design is set, we can quickly get a custom wallpaper printed and installed* at your office within the discussed timelines: no long wait, no worries.
* Wallpaper installation is an additional service. You can choose to install the prints yourself, as well.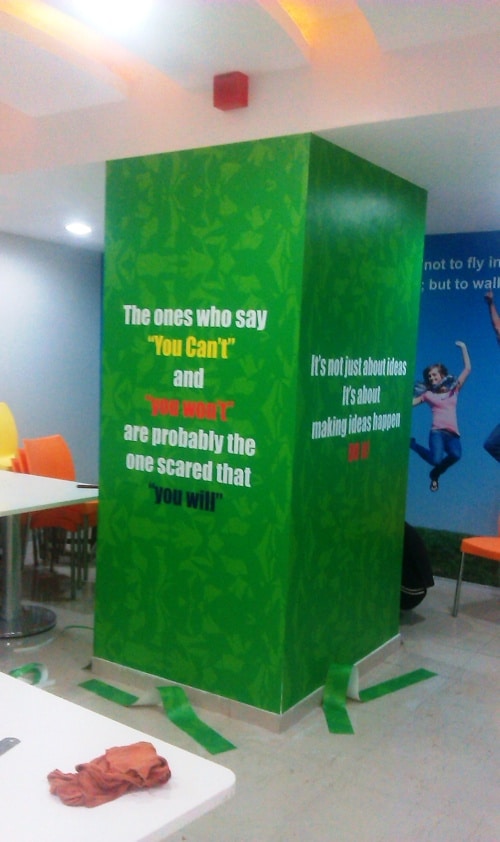 How is a Custom Printed Wall Sticker Produced & Installed?
A printed wallpaper project goes through several stages. These include:
Content creation, designing, and layout
Printing the job at our press
Onsite installation at your office
There are a few prerequisites at each of these stages to ensure that the final project meets success. Please consider the following points about wall decal production and installation, and I assure you, we will soon have your office walls look absolutely amazing.
Measure the site where the full wall sticker has to be installed
Before you start your custom printed wallpaper project, the first thing to do is to measure the wall where the print has to be installed.
If you are going to cover only a small part of the wall, this step is not necessary. You can probably order a sunboard poster and fix the same on the wall. But if you are looking for full wall stickers, you need to determine the surface area of the job.
Please note down the exact dimensions of the wall where the job has to go up. Please also consider any breaks or interruptions in the wall surface as well. For example, a wall might have an electrical switch board on an otherwise plain and smooth surface. If so, note down the locations of such areas where pasting the print may not be possible.
A high resolution design file for printing wall decor stickers
With the dimensions determined, you can now think of the content that will go on your wall.
As I mentioned earlier, we can print any image that you give us. Just ensure that your design's artboard size and the wall dimensions match up with each other.
Before mailing across the job to an online wallpaper maker, many designers have a query about the resolution (dpi) that needs to be set for the wallpaper printing file. You can opt for either of the two methods listed below:
Set your artboard to the actual size of the wall. For example, if your wall is 10 feet wide and 8 feet high, your artboard (or page) size has to have a width of 120 inches (10 feet) and a height of 96 inches (8 feet).
When you set the page size at actual dimensions, keep the resolutions at a manageable 72 DPI or 150 DPI. This will keep the file size low and won't overwhelm your system memory.
Set your page size or artboard to a smaller proportion of the original dimensions. For example, if the wall measures ten feet (12 inches) X eight feet (96 inches), set the page size to 12 inches X 9.6 inches. So what we have done here is set the page size to one-tenth of the original dimensions.
With reduced page dimensions, you can now increase the resolution to 300 or even 600 DPI without worrying about the overall file size.
Both the above techniques will ensure two things:
The file size remains manageable and does not run into gigabytes of data.
The print resolution is not compromised, and you are assured of photo quality output without any image pixelation.
An online wallpaper maker will always tile the job
A customised wallpaper is never printed in one piece but rather in smaller, manageable tiles of 3, 4 or 5 feet in width. This is because no one can paste a continuous print having a size of eight/ten feet. Let alone covering walls 100s of feet in length.
So, to cover large walls, we first tile the job. Wallpaper tiling is the process of breaking down the overall print into individual tiles/sections. These tiles are joined together at the time of pasting to create one continuous image.
Tiling is typically done in a design software like Corel Draw. Tiling enables Orchid Digitals to deliver customized wallpaper prints of humongous sizes without any limit to the area these prints can cover.
For example, if the wall is twelve feet wide and ten feet in height, the print is broken into three vertical sections of 4 X 10 feet. These are later strategically pasted side by side, to give you the look of a continuous, one-piece image.
A smooth painted wall to paste the vinyl wallpaper
There is a very strong glue on the backs of our wall vinyls. This is especially true of branded media like Avery and 3M.
But for the glue to do its job well, the wall has to be painted and given a smooth finish. We cannot have an uneven surface or the paint flaking off. After all, even if we supply a vinyl wallpaper print with a strong adhesive, it will still peel if the base surface it is pasted on, is loose and has inadequate strength.
The good part is that you can use any low-cost, ordinary oil paint for this requirement.
Remember, we will use a diluted soap solution to paste the prints. So, try not to use water-based paints if you plan to put a wall sticker over them later. Lustre or oil paints work best for our purpose.
On-site pasting of your custom wallpaper
Once the tiled print and the finished/smooth surface is ready, it is now time to paste the job on the wall.
Pasting a printed wallpaper is not very difficult. First, you spray a little soap water on the wall. Next, you peel one edge of the print and gently start pasting it. Start from the top edge of the wall and gradually work your way down.
Use a squeegee to smoothen the print in place. The squeegee works out any unseemly bubbles from beneath the print surface. And the soap water allows for repositioning and adjusting the print before the glue dries up.
While we are online wallpaper makers, we also have a team of pasting guys ready for installation here in Pune. So, for our local clients, this aspect can be easily taken care of.
Related Office Branding Ideas – Printing on Glass
In addition to walls, work-places also have many glass partitions sectioning off cabins and meeting rooms. And these glass panels offer a great branding opportunity. So, you might also want to consider glass film prints to enhance your office interiors.
Here are a few options that you can consider:
Opaque and transparent glass film prints
The main characteristic of a glass film print is the amount of visibility and light it allows to pass through.
Based on your requirements for privacy, you can opt for an opaque film print that will fully cover a panel to protect your privacy. Alternatively, a transparent glass film print showcases your artwork while allowing customers to see through the partition simultaneously.
Frosted glass film prints
As the name suggests, frosted films lend a smoked, sand-blasted effect to your glass partitions. These films look extremely rich and classy.
Frost films are translucent. You cannot really make out what is happening on the other side of the glass partition. But while maintaining this privacy, frost film prints also allow natural light to pass through.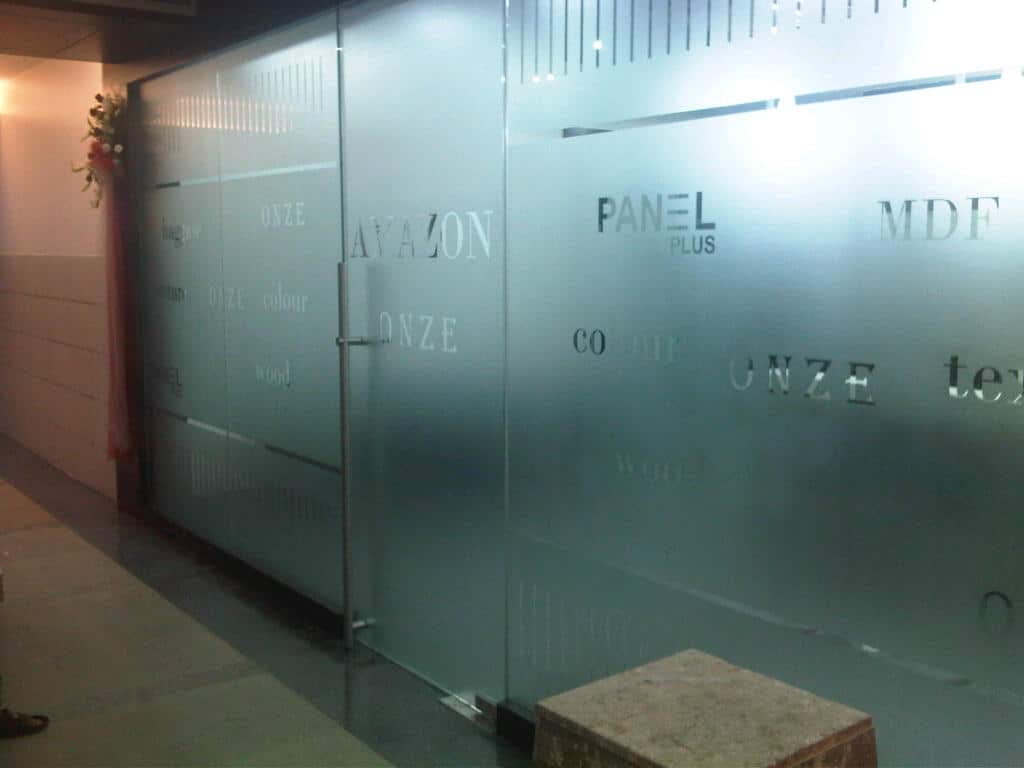 One way vision film
One-way vision mesh film converts a glass partition into a privacy panel.
People standing outside can only see the branding/design printed on the film. People behind the glass partition, on the other hand, can see through the glass pane.
White ink prints
White inks lend a classy look to dark, tinted glass panels. They also have a unique ability to make a panel both partially transparent and part opaque.
FAQs | Frequently Asked Questions
Pricing of Custom Printed Wall Vinyls
At Orchid Digitals, you can order a wall print and do the pasting yourself or task us with the end-point installation as well.
Also, we primarily offer two types of solutions. A smooth matt-finished wallpaper print or a textured finish wall print. Here are the costs for both these options, with and without installation.
Without Installation
₹70.00/Sq. Foot*
Wall vinyl print ideal for home & office environments
Example Costing:
₹2800.00 for a wall print of 8 feet width X 5 feet height*
With Installation (In Pune)
₹100.00/Sq. Foot*
Wall vinyl print ideal for home & office environments
Example Costing:
₹4000.00 for a wall print of 8 feet width X 5 feet height*
Delivery via Courier
₹90.00/Sq. Foot*
Wall vinyl print ideal for home & office environments
Example Costing:
₹3600.00 for a wall print of 8 feet width X 5 feet height*
Without Installation
₹120.00/Sq. Foot*
Wall vinyl print ideal for home environments
Example Costing:
₹4800.00 for a wall print of 8 feet width X 5 feet height*
With Installation (In Pune)
₹150.00/Sq. Foot*
Wall vinyl print ideal for home environments
Example Costing:
₹6000.00 for a wall print of 8 feet width X 5 feet height*
Delivery via Courier
₹140.00/Sq. Foot*
Wall vinyl print ideal for home environments
Example Costing:
₹5600.00 for a wall print of 8 feet width X 5 feet height*
Without Installation
₹150.00/Sq. Foot*
Wall vinyl print ideal for home environments
Example Costing:
₹6000.00 for a wall print of 8 feet width X 5 feet height*
With Installation (In Pune)
₹180.00/Sq. Foot*
Wall vinyl print ideal for home environments
Example Costing:
₹7200.00 for a wall print of 8 feet width X 5 feet height*
Delivery via Courier
₹170.00/Sq. Foot*
Wall vinyl print ideal for home environments
Example Costing:
₹6800.00 for a wall print of 8 feet width X 5 feet height*
* Please Note:
Rates mentioned above attract 18% GST
The rates quoted above are per square foot. This means you first need to work out the total area of your job to arrive at the final cost. For example, let us assume that you require a matt laminated wallpaper print with a width of 12 feet and height of 8 feet. Further, you also need this print installed at your site in Pune. In this case, the total cost of the job is calculated as follows…
12 feet (width) X 8 feet (height) X ₹ 100.00 (cost of print, as per the table above) =
₹ 9600.00 (+ 18% GST)
Shipping and Delivery
Wallpaper prints can be delivered anywhere in India in a roll form.
Delivery charges are extra and will be communicated to you once we receive the delivery address.
We also provide endpoint Installation services in Pune City and its surroundings.
Get A Quote for Your Wallpaper Vinyl Print
Please leave us your details and we will respond promptly
Similar Products
Original cotton canvas prints to create classy photo frames. Jaw-dropping…
Poster printing for ads and marketing. Presentation posters from size…
Sunboard / Foam Sheet Prints. Thick, Rigid Yet Light-weight. Communicate…