People do judge a book by its cover. And your product (no matter how good), will be evaluated by its packaging and initial looks.
Showcasing your brand and making its presence felt is a big challenge. The markets are saturated with branded and unbranded products, all selling the same thing. Moreover, all of them even look similar.
So, it's vital for your brand to stand out and grab eyeballs in all this clutter. How do we do this? Well, one quick and effective method is to use shape-cut stickers. As the name suggests, these stickers can be cut in any shape you can dream of.
The problem with marketing communications is that they are generally rendered in a generic rectangular shape. Posters, flyers, brochures, etc., all have the same form factor — square or rectangle.
And in this sea of similar content, our nonlinear shape-cut stickers are guaranteed to grab attention instantly.
These small marketing collaterals are also referred to as custom die-cut stickers, kiss-cut stickers, or print and cut stickers. And although not as big as billboards, this simple yet highly effective solution will ensure that your product flies off the supermarket shelves!
Let's take a look at the various types of Kiss Cut Stickers available at our place.
12 Types of Kiss Cut Stickers Available at Orchid Digitals
Orchid Digitals is the only outlet in India that offers more than ten different types of kiss-cut stickers. Our variants are based on the type of sticker sheets used, and the end-application they are going to be used for.
Here is a brief description of each of the above.
White Opaque Paper Stickers
This is our most basic variant. And it is also one of our bestsellers. The stickers here are cut out of a glossy, white, opaque sheet of paper. And the printing is done at a very high resolution on our digital colour press. The resultant die-cut labels are perfect for pasting on products.
People use these cut stickers as price tags, garment labels, discount stickers, quality control tags or simply as giveaway stickers for marketing purposes. And while paper sticker sheets are susceptible to tearing and moisture, this variant is a great choice when it is important to keep costs low.
Non-Tearable Plastic White, Opaque Shape-cut Stickers
Artists and graphic designers have great demand for stickers for gifting, giving away stickers as merchandise or die-cut stickers for selling. They also help in advertising. For example, cute stickers of your mascot or a logo sticker cut design are great ways to create brand awareness.
Recipients of these free giveaway stickers paste the same on all kinds of places like notebooks, vehicles, laptops and even mobile covers. This ensures long term recall value for your product.
And our NT (non-tearable), white, opaque sticker sheets are the perfect choice for the above applications.
These die-cut stickers have a slight lustre giving them a premium look and feel. Also, unlike their paper counterparts, they do not tear very easily.
Plastic stickers are also water-resistant. This makes them ideal for labels of food products that need to be refrigerated.
Transparent Die Cut Plastic Stickers
If you are looking for a die-cut label to paste on a clear glass bottle while displaying the contents within, transparent stickers are what you need.
Much like their NT counterpart listed above, these stickers are also made of plastic. But the difference in this variant is that we use clear, see-through, transparent sticker printing in place of white, opaque media.
You can paste these transparent stickers on any package/container and they will still display the contents within. Labels for glass and plastic bottles are an immediate application that comes to mind. But products wrapped in cellophane papers would also necessitate the use of such print and cut stickers.
Transparent kiss-cut stickers are also used for creating decals for car windshields.
Metallic Kiss Cut Stickers
Metallic stickers look jaw-droppingly gorgeous. This uber premium variant will ensure that the sticker recipient's eyes will light up with delight.
At Orchid Digitals, we stock two types of metallic sticker variants — gold foil stickers, and silver stickers.
The silver variant gives off a slight rainbow coloured reflection, very much like holographic security stickers. And this variant is also a favourite among all our clients. The golden foil stickers have a matt, brushed finish and they grab attention wherever they are pasted.
Both these stickers are used for labelling premium products like cosmetics and white goods.
Removable Adhesive Sticker Paper
If you have used Post-it notes, you know that the glue used for these stickers does not leave any ugly residue when the notes are peeled. Our RA — short for removable adhesive stickers work on a similar principle.
All the other die cut labels listed here use a solvent or acrylate-based adhesive. And they do the work of imparting a strong adhesion to our labels, just fine. But if you need to remove the stickers later, this might pose a problem.
The sticker either tears off while peeling or leaves ugly residual glue marks even after the label is fully removed.
And our Removable Adhesive sticker sheets attempt to address this problem.
We use media from a specialised brand called Avery™ for this purpose. These peelable stickers will not damage the substrate (base on which the stickers are pasted). These labels are also called 'repositionable stickers'. This means that you can reposition them at different locations. That is, peel them and paste them elsewhere.
I need to place a disclaimer to the above claim, though. While removable stickers get the job done in most cases, they might react differently with different substrates. Also, if left in place for a long duration or exposed to high temperatures, they have been known to fail.
Rs.3000.00 + 18% GST
For a MOQ* (Minimum Order Quantity) of 30 A3 or 60 A4 or 120, A5 一 sized sheets.
*Depending on your artwork dimensions you will get hundreds if not thousands of small-sized, individual stickers from the above MOQ.30
Reverse Stickers / Reverse Pastable Labels
We mainly visualise glue on the lower side and the print on top when we talk about stickers. The sticker is also always pasted on the top of the surface.
But certain applications need the label to be pasted from inside or beneath the substrate. For example, car parking stickers are generally pasted from the inside of car windscreens. The glass storefront of a retail outlet may also use reverse stickers.
And in this case, the glue has to be applied on the front face of the stickers — i.e. the same surface on which the design is printed.
At Orchid Digitals, we have specialised reverse sticker paper that is sticky and printable on the same surface. These kiss-cut reverse stickers are a great choice when you label transparent materials like glass or clear acrylic sheets.
Vinyl Cut Stickers
All the materials used in the above products are made of either paper or plastic. And they are great for making gift sticker sheets or giveaway stickers for merchandise. But neither paper nor a thin sheet of plastic is particularly strong.
To address this deficiency, we can also create shape cut stickers from a material called vinyl. Vinyl is a thick PVC film; generally 100 microns thick. It's pretty robust and has excellent resistance to heat and water.
So if you are looking for a more premium and rugged sticker, it makes sense to choose vinyl media to fabricate your labels.
UV Printed Die Cut Sticker
UV prints refer to the use of ultraviolet inks to reproduce images. And if vinyl media is robust, UV inks on the same result in stickers on steroids.
UV inks tick all the right boxes. They are waterproof, fade-resistant, scratch and even heat resistant. And a die-cut sticker made from a combo of vinyl media and ultraviolet inks results in a pretty rugged product.
We have a pretty detailed post about the various types of inks used by different inkjet printers here. But for now, let me just state that if you are looking for stickers that have to be deployed outdoors or in extreme weather conditions, UV printed cut out sticker prints are your best bet.
The best example of this kind of application would be decals for vehicles.
Reflective Vinyl Sticker Paper
Reflective media is an excellent option when you want your stickers to shine brightly in low-light conditions.
The material used here is a light-reflecting radium film. The moment light from a vehicle's headlamp falls on it, the same is reflected back. You might have noticed reflective prints used for direction boards on highways. These boards instantly shine in the evening or at night when cars pass by.
And basically, what we have done is repurpose this specialised media to create our stickers.
Reflective stickers are ideal for pasting on cars, bikes and perhaps, even your helmet.
Glow-In-the-Dark Shape Cut Stickers
All of us have seen greenish looking stickers cut in the shape of fairies, stars, the moon, etc., pasted in children's bedrooms. These stickers double up as a night light and emit a greenish glow in the dark to reassure our toddlers.
Night glow media has a very unique property. It absorbs light during the day, and slowly emits the same at night. And stickers made from this media have a terrific merchandising value.
Imagine a sticker cut in the shape of an alien, pasted on your laptop and glowing with an eldritch green light in a darkened room. How cool would that be?
Glow in the dark, kiss cut stickers are a particular hit among our younger teenage clients.
Embossed/Raised-effect 3D Stickers
All the stickers listed above are two dimensional and flat to touch. But at Orchid Digitals, we have this embossed sticker that has a fabulously tactile feel and is also very premium to look at. Our raised effect embossed stickers amp up the vibrancy of your communication and will instantly boost the value of the product it is placed on.
Raised effect stickers are great for branding white goods and costly gift items. They are also a good solution for creating logo decals and brand merchandising.
Dome Stickers
Dome stickers are an impressive 3D variant that looks a class apart.
These stickers have a clear and shiny, dome-shaped top surface. An epoxy resin/polyurethane solution is used to create the dome on top of the kiss-cut sticker.
Dome stickers look great, feel great, and take the visual appeal of logo stickers a notch up.
Production for Dome Stickers is currently suspended. Do check back at a later date!
And in the meanwhile, do consider embossed effect stickers as an alternative.
Applications of Custom Cut Vinyl Stickers
Labelling
Regular, rectangular-shaped labels for your products are boring. And you need to ditch them. Packing labels make a lot of difference, especially for FMCG products. A good label can influence a buyer to pick up a product from the shelf and place it in his cart.
Our die-cut sticker solutions help to make your existing labels better and more noticeable. Have a discount or sale you want to advertise? Just stick one of these!
Product Branding
Custom cut decals are a great branding solution for products. As they make your products look more desirable. And, after all, what gets noticed more, sells.
Merchandising & Company Logo Highlighting
Are you looking to give away your company's logo or a quirky design as stickers? Custom decals can be printed in the shape of your logo or a design with a clever tagline. This also has great retention value in the customers' minds.
Sticker Designers
Sticker designers and graphic artists easily whip up decal artwork in odd, nonlinear shapes on their computers or iPads. But giving a physical form to these designs is a job of our kiss-cutting machines.
Parking stickers
If your residential/commercial space requires custom parking stickers that mark vehicles impressively, kiss-cut stickers are an ideal solution. With weather-proofing and custom designs, these stickers will make the residents'/members' lives easier.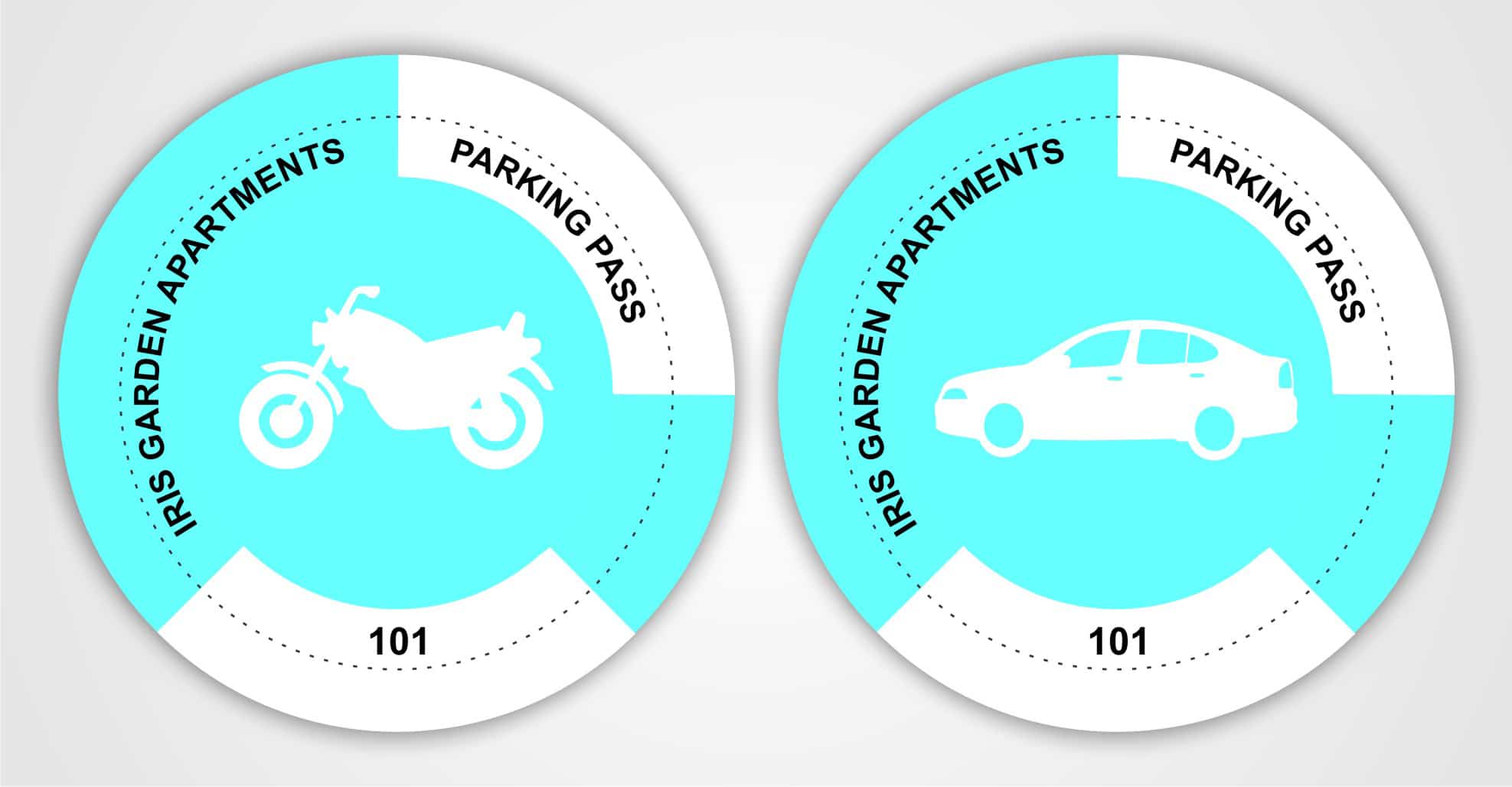 Advantages of The Kiss-cutting Process
The most apparent advantage of the kiss-cutting process (explained in detail here) is that you can now generate stickers in any shape you can imagine. But apart from this, there are several other benefits as well.
There is No Wait-Time
Kiss cutting is an instantaneous process. Since the cutting blade is integrated into the printing machine, both the printing and cutting happen simultaneously.
A lot of our customers here in Pune give us their files, go out for a cup of chai, and come back in 30 minutes or so, to collect the finished job 🙂
It is Cost Effective
Non-liner stickers were traditionally die cut. In addition to being a multi-step, time-consuming process, die-cutting can also prove to be very expensive for smaller quantities. On the other hand, you can generate kiss-cut stickers for just a few rupees.
We discuss the traditional die-cutting process in further detail in this subsequent section.
You Can Create Different Shaped Stickers in the Same Job
As explained in the previous section, the cutting job is defined in a separate outline file. And this file can carry as many different shapes as you want.
This means that you need not restrict yourself to just one type of sticker design. In fact, graphical artists club multiple designs all having different shapes in the same job, before commissioning the same from us.
Benefits of Kiss-cut Stickers
Kiss-cutting Overcomes the Limitation of Regular Cutting Methods & Frees us from the Limitations of Rectangular Labels
For the longest time, stickers have been linear in shape. People get multiple stickers printed on a sheet. And these individual labels are then cut into boring squares and rectangles.
Photo slitting or guillotine cutting machines can easily cut along these straight edges. Straight edged cuts can also be performed at home using a simple blade cutter and a ruler.
But these traditional methods will not work for stickers having non-linear edges.
For example, how would you use a straight-edged slitter to cut a sticker in the shape of a Mickey Mouse cartoon?
One could theoretically use scissors to cut stickers in different shapes manually. But the hassle of printing a complex design and then manually cutting vast quantities of the same has been a deterrent for many.
After all, it's tedious to trace the edges and then cut them to absolute perfection. Not to mention the issue of messing up the edges and ruining the entire sticker.
Enter Kiss Cutting Printers.
Kiss-cutting Vs. the Traditional Die Cutting Process
The modern shape cutting process has largely replaced die-cutting methods of the past, especially for short-order jobs. But the traditional die-cutting way does work out to be economical for larger print runs. So, it makes sense to make a mention of the same here.
Let's take a quick look at what the traditional die-cutting and stamping process involves.
In our earlier example, we created a Mickey Mouse shaped sticker. To die-cut the same in the traditional process, we have to follow the following three steps:
Step 1: You print a large sticker sheet containing multiple copies of the image.
Step 2: You have to get a metal die/stamp manufactured next. This metallic stamp has sharp blades fabricated in the shape of our final sticker boundary.
Step 3: Finally, the die is punched with a lot of pressure onto the pre-printed stickers sheets. When pressed on the sticker paper, the blades neatly cut the same, in the desired shape.
The best analogy of this process would be the hole punching machine we use in offices to file sheets of papers in file folders. Here the die is in the form of circle-shaped blades fitted in the punch. And when pressed with adequate pressure, these blades cut out precisely shaped circles in our sheets of paper.
Also, you may have realised that fabricating a separately shaped metallic die for each of your designs can be a costly affair. Die-cutting is also time-consuming because of the multiple steps listed above.
But the one advantage of this method is that it works out cheaper for manufacturing more significant quantities of stickers.
So, if you have a large sticker job (numbering in thousands of copies) of the same shape & size, do get in touch with us to work out the feasibility of die-cutting the same.
Customisation That Gets You Noticed
Customisation is the talk of the town. To ditch the regular old shapes and go for a nonlinear shape/design is a great boon. Where the old and traditional looking stickers don't succeed in grabbing eyeballs, these stickers allow you to go with any shape you want.
And this aspect is further supported by…
Weather-proofing
We can use high-grade vinyl to manufacture our shape cut stickers. To a large extent, this material is impervious to the elements and vagaries of the weather. Come dust, water, sunlight, these stickers hold their fort rather ably, and continue to look stellar.
Scratch And Scuff-resistant
We're one of the few providers in India of UV-printed stickers.
UV-inks are incredibly hardy and resistant to wear and tear. So, in addition to being waterproof, these UV inks make our stickers scratch-resistant as well.
And in case you are curious about the various types of inks used in the digital printing industry, we have a pretty exhaustive post about UV and other digital printing inks here.
Ease of Use
What makes customisation even sweeter is how easy it is to use these stickers.
Regular shapes stickers have been traditionally easy to use. However, the challenges of nonlinear designs get addressed as well. All you have to do is peel off the adhesive back and apply the sticker where you want to.
Serves as a Great Product Branding Tool
The above four points make the shape-cut sticker an impressive branding collateral. If a small size factor solution is what you're looking for, our shape-cut decals do a great job.
You can stick them onto vehicles, boards, laptops, mobiles phones and covers, or other places of interest. And I assure you, these stickers will tell your story for a long, long time.
How are Custom Die-cut / Kiss-Cut Stickers Made?
Kiss-cut stickers are manufactured on a specialised machine which is both:
A printing machine and,
A cutting plotter.
Here is how the kiss-cutting process takes place.
You are all aware that you fire a file from the PC to the printer before the job is taken up for printing. But, when you work with shape cutting printers, you can also send across a predefined outline, in addition to the image that has to be printed.
So, for example, if you had to create a vinyl cut sticker in the shape of a Mickey Mouse cartoon, you send across two separate files to the printer:
The actual image of Mickey Mouse
An outline in the shape of the above cartoon
Also, remember that our wide format printer also has a cutting blade integrated into it. So when a user fires a job on the machine, here is what happens.
Image Printing
The inkjet printer first prints out the image on a huge roll of vinyl. Inkjet vinyls are printable rolls of media having two layers.
The top layer is the actual sticker media. It is specially coated to receive inks and this where the image is reproduced. This surface also has an adhesive back, or glue on its lower side.
The lower layer is the baseliner of the above sticker. This base is also referred to as the release media. It is a thick sheet of paper from which the above sticker is eventually peeled off.
Kiss-cutting
Once the image is printed, the blade, integrated into the machine, starts gliding along the outline, pre-defined in the job. As you all know, plotter blades can be programmed to move (and cut) in any non-linear direction you want them to.
So, as the blade glides over the sticker surface, its sharp point exerts only enough pressure to cut the vinyl roll's top surface without touching the release media beneath.
In other words, the cutting blade is gently 'kissing' the surface of the vinyl roll to get the job done and generate stickers in just about any shape you desire.
These decals are also called 'half-cut stickers' in the print industry.
The term half-cut refers to the fact that only one-half of the media gets cut. Here, the top portion of the sticker is slit in the shape you want, while the lower release paper remains intact.
Half-cutting also makes peeling the label extremely easy. All you have to do is bend the media slightly, and the edge of the sticker pops up for you to take hold of.
We go into more details about how to prepare/design a file for kiss cutting, in this section here.
File Formats Required for a Print And Cut Sticker
To process a kiss cutting job, the design files for the same need to be set in a particular format. Here is a quick look at how you need to set your design file for submission to a print bureau for shape cutting.
You can use any type of .jpg .png or other image file formats for making shape cut vinyl stickers.
But the cutting outline has to be separately defined as a vector.
You can define outlines or contours for kiss-cut stickers in vector-based design software like Corel Draw or Adobe Illustrator. Click here to learn how to define edges/shapes in Corel Draw.
As explained in the previous section, the machine senses this contour and runs the cutting blade along the same.
It also makes sense to have a slight white edge or space between the image and the outline that the machine will cut. This space highlights the design within and significantly increases the life of the sticker.
Here are the steps you should follow, to prepare for your kiss cutting job.
Follow These Steps to Prepare your File For The Kiss-cutting Process
FAQs | Frequently Asked Questions
MOQ | What is the Minimum Order Quantity that you accept for a kiss cutting job?
We are mainly geared for large quantities of sticker manufacturing. Our jobs are cut from large 4 feet wide rolls of media or processed on high-speed digital colour presses. And unfortunately, these manufacturing processes are not conducive for printing single or individual stickers.
Hence, the MOQ and the minimum billing amount are mentioned below each of the sticker variants listed above.
How do I calculate my price per individual sticker?
As I mentioned above, we do not print kiss-cut stickers individually. The same are manufactured in bulk. So working out the cost of an individual label will involve a little bit of reverse calculation. Here is how you should go about it.
Refer to the price chart below
Jot the price per selling unit listed there.
You will notice that some sticker sheets are quoted on a per sheet basis while the rate for others are quoted per square foot.
Determine how many of your labels fit in one sheet / square foot.
Divide the price by the number of labels that fit in one sheet / square foot.
For example: You need to order kiss-cut paper stickers. The price for the same is Rs.60.00 per sheet of size 12 X 18 inches. Your individual label size is 2 X 3 inches. This means that 36 pieces of 2*3 inch sized labels will fit on one large 12*18 size sheet.
So the cost is worked out as follows:
Rs.60 ÷ 36 labels sheet = Rs.1.66 per label
How do I prepare my artwork/design file for the kiss cutting job
Kiss-cut sticker jobs need a little bit of prep before the same can be taken up for printing. Here is a checklist of the things that a designer has to look out for while preparing her file.
I have a transparent .png. Will you trace it out for me? Will you set the cutting outline for me?
Yes, this is possible. Do share your artwork as a hi-resolution transparent .png. We'll set the outlines at our end.
Why is a white border/contour recommended?
Die-cut stickers can be cut right on the edges of your images. But putting in a 3 or 4 mm white contour /border will help in two things.
It will significantly increase the life of the sticker and prevent inadvertent peeling.
A white contour around the edges looks good! And makes our image stand out.
What if I don't want a white contour around the edges?
Sure. No problem.
Just ensure that your base colour bleeds through the cutting edge. For example, if you need a red coloured circle to be cut at 3 inches diameter, ensure that your red colour flows out to 3.2 inches.
This practice will ensure a good finish for your labels.
Can I get a through-cut sticker?
Through-cut stickers are where the design is cut through and through. This means that the top sticker surface and the liner beneath are both cut out.
This service is possible for certain kinds of sticker media. Do get in touch with us to know more.
The finished product will be shipped to your location via courier. Do share your exact address while placing the order.
How Much Do Print and Cut Stickers Cost?
Custom die-cut stickers are available in a variety of media. Given below are the prices per square foot or per sheet of printing the same.
We have also listed the minimum order quantity that needs to be logged.
Vinyl stickers are charged on a per square foot basis. You need to reverse calculate the cost per piece based on the number of stickers fitting in one square foot.
For example, the per sq. ft. of print and cut stickers on white vinyl with UV inks is Rs.90/-. Let us assume that you have a 2 inch X 2-inch sticker. Thirty-six stickers of this dimension will fit in a square foot. So the cost per piece is 90 / 36. This works out to approximately rupees 2.90 per piece.
* Please Note: 18% GST is applicable on the above rates
Shipping and Delivery
Shape cut stickers can be delivered anywhere in India.
Delivery charges are extra and will be communicated to you once we receive the delivery address.